03 Oct

Why forest school, in primary schools make so much sense
Why, in my humble opinion, Forest school in Primary schools makes so much sense.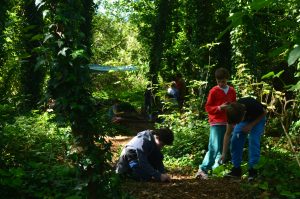 I have been a forest school practitioner for five years now and a creative facilitator for twenty. I have been running regular forest school sessions with children from two to sixteen years of age. Up until recently, bar a few random sessions, all of these have been run with children outside of school hours .
In April 2019, the wonderful Andy Wheeler, head of school of Biological, Earth and Environmental Sciences at U.C.C offered us the use of a small patch of unused forested area on the U.C.C campus. He gave us his full support and recognised the value in our proposed project to engage primary school children in regular Forest school practice.
After running a very successful pilot with the nearby Educate Together Primary School in Cork City we gained the support of the teachers, pupils and parents alike. Their principle and her staff then looked at a way of rearranging the week so that four classes could have six, two hour forest school sessions throughout the school year.
They jiggled the timetable and one day a week, they found a way to split a class of thirty in two. The first half coming with their main teacher in the morning and the rest accompanied by a support teacher in the afternoon.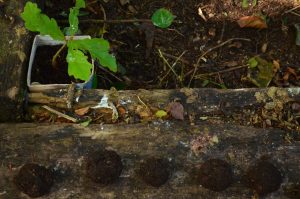 We have now just completed our first round of sessions with 4th class. These sessions have filled me with a renewed passion for this work. A marvelling at the many magic moments and on the absolute conviction that Forest school in primary schools is an extremely complimentary addition to primary school education. Among many other things it offers children a chance to connect, move, explore, imagine and be inspired.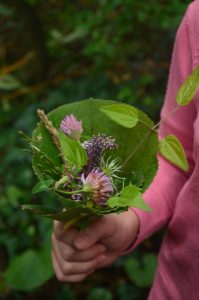 The children showed up with great enthusiasm and those who were less comfortable in being outside, built up their confidence to share their seat with a spider, or get their hands dirty by following their own desire to create with clay, willow or wood.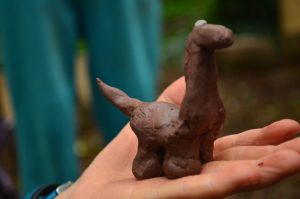 The simple joy in walking, running and playing games together reminded me of the importance of being in our bodies. As well as tackling rising levels of childhood obesity, supporting physical and mental well being it also creates better learners. When we move we stimulate all the nerve cells that we use to think with, and when we stimulate those nerve cells, it gets them ready to work.
A study, published in the journal of Pediatrics, involved more than 10,000 children between the ages of 4 and 13, found that physical activity improves behaviour in classrooms and is a boost to academic achievement, especially math-related skills and reading.
I know how much more energy and focus I have when I exercise and it is the same, if not more so for children. The benefits from being physical also extend to reducing behavioural issues in the classroom, helping release excess energy pent up from being inside and sitting still for too long.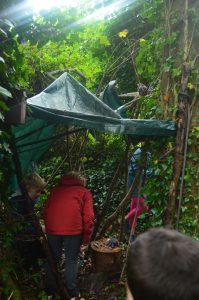 There are so many demands on children on what they need to learn and when they need to learn it by. Forest school is a welcomed respite from this. Learning still happens just in a more kinaesthetic way. Children can access concepts and skills that are more commonly offered through chalk and talk.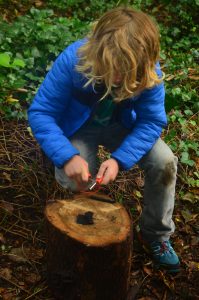 Over the past few weeks a few things stood out to me . After a short walk to site and a run around I witnessed the children settle into activities that interested them. Some choosing to cooperate and work together others grateful to have some time in the day to work alone.
There was a sense of calm, that the teacher commented was rare to find in the classroom. She also commented on how great it was to observe the children and their skills in a different light when left to follow their own interests outside of the classroom environment. Forest school supports healthy relationships to form between the children themselves, their teachers and the natural environment.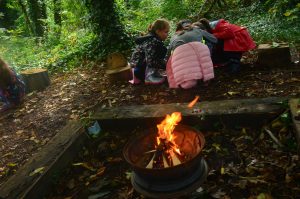 The teacher also commented that when given homework to write about their experience in forest school the children wrote freely and without complaint, only too happy to share their learnings and discoveries .
There was a few occasions when I observed children take such pleasure and pride on completing a challenge be it creative or otherwise e.g making elder jewellery, clay art, tying knots or using a flint and steel. Their sense of achievement was obvious and on two occasions children commented that it was the first time they ever made something so brilliant.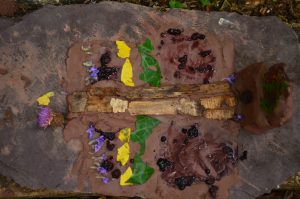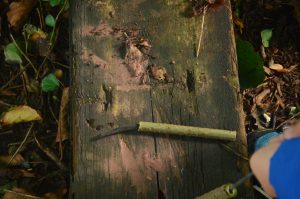 Witnessing them make their way to the site differently. How their journey there became different as they stopped to notice the tides, take note of the heron in the river, tipped their hat at the elder and running with excitement to take some plantain soldiers to play a game. Their journey,  becoming so much more familiar as they learned to identify what was growing and living around them in the natural world.
Recent evidence also suggests that children's eyesight is not developing as it should. With so much screen time children rarely have the opportunity to look and focus on smaller details in the distance. Taking time in nature can remedy this.
The shelter became a place to gather and listen to and enjoy the sounds of the rain and to each other. The children's own feedback of their time there included "Thanks for giving me a chance to imagine " "Thank you for letting us do what we wanted to do "
" Can we have more time here and come more often ? "
At the moment I am in total agreement with Albert Einstein when he said " Imagination is more important than knowledge" Imagination is the door to possibilities, without which there is no hope. It is what truly separates us from other animals and hopefully robots. Forest school for me, among other things, sparks curiosities and tickles the imagination. To encourage creative thinking, resilience and problem solving, alongside literacy, numeracy and knowledge is truly giving our young people what they need to step into their future with hope and confidence.